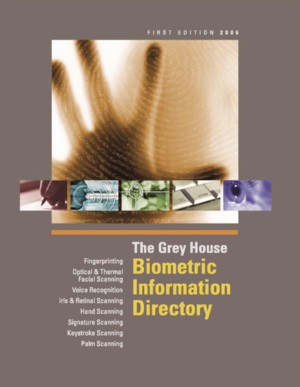 "This book should prove useful to agencies or businesses seeking companies that deal with biometric technology. Summing Up: Recommended. Specialized collections serving researchers/faculty and professionals/practicioners."
-CHOICE
The Grey House Biometric Information Directory
First Edition
Pub. Date: September 2005
Softcover: 500 pages
ISBN: 1-59237-121-3/978-1-59237-121-1
Price: $225.00
Online Database: Get Price Quote

The Grey House Biometric Information Directory is the only comprehensive source for current biometric industry information. Previously compiled by Biometric Digest, in an online database, this 2006 edition is the first published by Grey House.
With 100% updated information, this latest edition offers a complete, current look, in both print and online form, of biometric companies and products – one of the fastest growing industries in today's economy. Detailed profiles of manufactures of the latest biometric technology, including Finger, Voice, Face, Hand, Signature, Iris, Vein and Palm Identification systems. Data on the companies include key executives, company size and a detailed, indexed description of their produce line.
Plus, the Directory also includes valuable business resources, and current editorial make this edition the easiest way for the business community and consumers alike to access the largest, most current compilation of biometric industry information available on the market today. The new edition boasts increased numbers of companies, contact names and company data, with over 700 manufacturers and service providers.
Information in the directory includes:
Editorial on Advancements in Biometrics
Profiles of 700+ companies listed with contact information
Resources – Organizations, Trade & Educational Associations, Publications
Conferences, Trade Shows and Expositions Worldwide
Web Site Index
Biometric & Vendors Services Index by Types of Biometrics
Glossary of Biometric Terms

This resource will be an important source for anyone who is considering the use of a biometric product, investing in the development of biometric technology, support existing marketing and sales efforts and will be an important acquisition for the business reference collection for large public and business libraries.

NEW ONLINE DATABASE PLATFORM!
This database is available for subscription online on GOLD, Grey House Online Databases. https://gold.greyhouse.com
With a subscription to the online database, users can access this wealth of information in just minutes. With the keyword search, quick search and expert search on GOLD, users can quickly and easily find the information they're looking for. Plus, subscribers can do quick or in-depth searches, save their searches, save search results, sort search results, view company profiles, download contact sheets, click through to email and web hotlinks, and so much more. Call (800) 562-2139 to set up a tour of the online database.

Pub. Date: September 2005
Softcover: 500 pages
ISBN: 1-59237-121-3/978-1-59237-121-1
Price: $225.00
Online Database: Get Price Quote




Note: If you find this work does not fit your budget, please print out this page and bring it to your local library. There is a reasonable chance they either have a copy, can direct you to a library that does, or will be willing to purchase it for their reference collection.