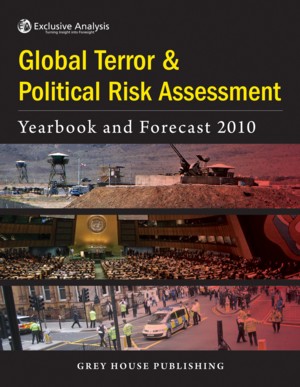 "This one-volume source is packed with information that academics and students in political science, security, or international business programs would find invaluable. An excellent source for detailed political and terrorism risk analysis; highly recommended for academic libraries as well as public libraries with users in international business."
-Library Journal
Global Terror & Political Risk Assessment
2010 Edition
Pub. Date: March 2010
Softcover: 850 pages
ISBN: 1-59237-680-0/978-1-59237-680-3
Price: $450.00
Request a

for your library


This important new reference tool combines an overview of the major incidents of terror and political unrest around the world in 2009, an expert, in-depth global risk forecast for 2010, along with country-by-country overviews and major risk events to put the country's unrest in an historical context. With many four-color maps and graphs, no other resource offers this level of detailed analysis of terror and political risk, in an easy-to-use single volume, in such a user-friendly, accessible format.
Detailed Introduction gives the reader an important overview of political risk assessment. Special coverage is given to the Language of Risk, to give the reader further background data.
The Year in Review – two informative sections provide an important overview for the reader

* Chronological Assessment - outlines the world's terror incidents and cases of political or social unrest in 2009
* Over 40 Special Reports provide expanded coverage on selected risk events, to offer the reader an extra level of background and social or political context

In-Depth Subject Essays – provides even more detail on a number of current event topics critical to risk assessment. Topics in this edition include Agriculture in Africa, Terrorism & Piracy in Somalia and Commercial Outlook of Pakistan
2010 Forecast – arranged by region, this informative section identifies and analyzes areas of terror and political risk around the world for the coming year
Country Risk Profiles – offers an entry for every country in the world, profiles begin with a narrative Risk Overview, written by country experts, and provide a Current Overall Risk Level Indicator (from severe to low), a chronology of Key Incidents from the last five years
Appendices: Key Events by Sector/Market, Key Events by Category and Countries by Risk Level
Written by experienced team of risk assessment specialists, Exclusive Analysis LTD in the UK, in an easily-assessable format, these historic analyses and political insights will enrich a wide range of research needs, from historical, political, social and religious trends to business and travel risk.
Pub. Date: March 2010
Softcover: 850 pages
ISBN: 1-59237-680-0/978-1-59237-680-3
Price: $450.00


Note: If you find this work does not fit your budget, please print out this page and bring it to your local library. There is a reasonable chance they either have a copy, can direct you to a library that does, or will be willing to purchase it for their reference collection.