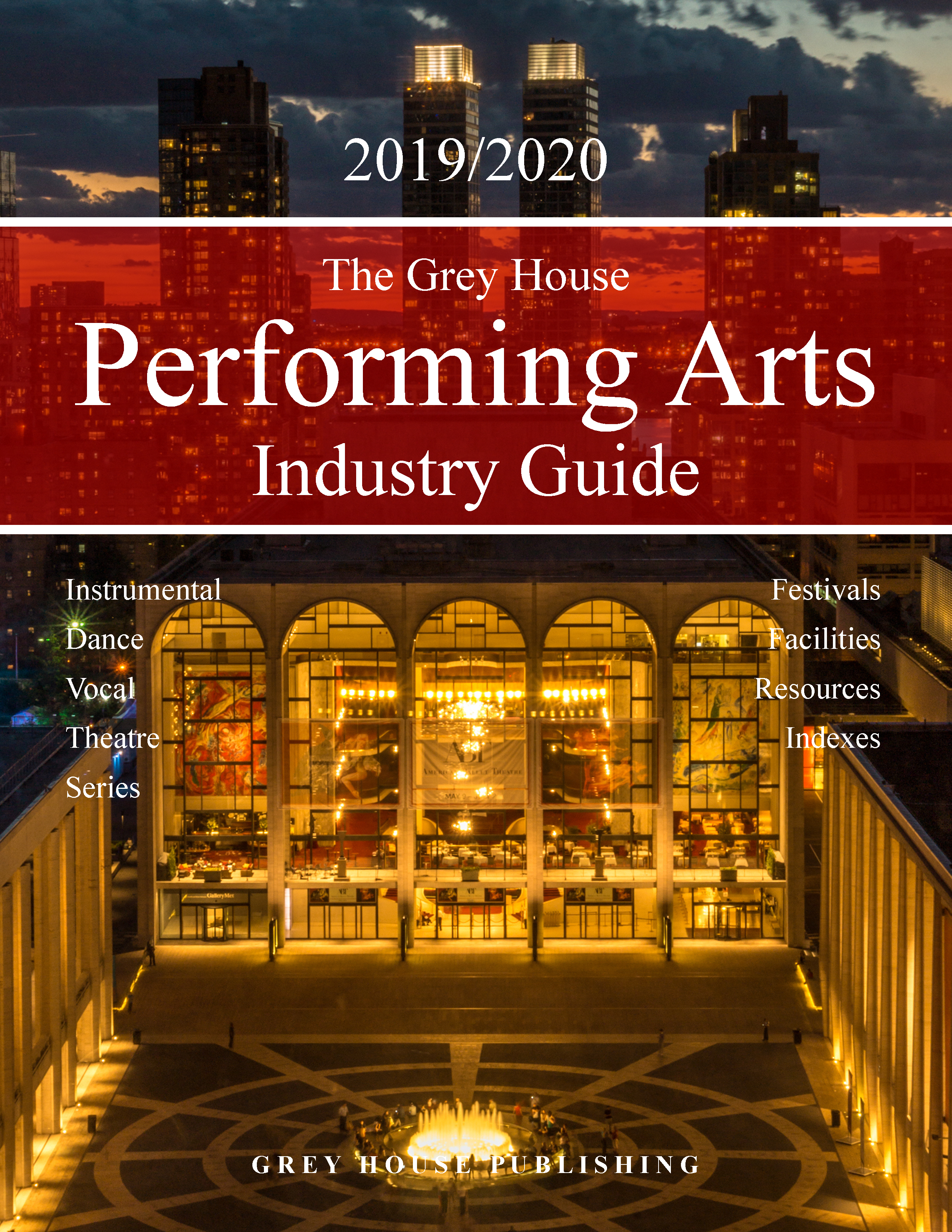 "This volume assembles an impressive collection of material into one broadly useful resource for preforming arts professionals, students, volunteers, and others."
-Choice

"This reference volume is a treasure trove for anyone looking for information on the performing arts in the United States."
-ARBA

"An immensely useful and user friendly new reference tool that is recommended for public, academic and certain special library collectons."
-Booklist

"An easy source for information that can be otherwise difficult to find. The compilation reaches from small town theaters to the Metropolitan Opera and should prove to be a practical addition to both public library and academic library collections."
-CHOICE
The Grey House Performing Arts Industry Guide
2017/2018 Edition
Pub. Date: January 2019
Softcover: 1,200 pages
ISBN: 978-1-64265-061-7
Price: $195.00
Online Database: Get Price Quote


Request a

for your library


Don't Want to Wait? You Can Still Purchase the Previous Edition of This Title Here.
The Grey House Performing Arts Industry Guide, formerly titled The Grey House Performing Arts Directory, includes 9,453 performing arts organizations and resources and 36,886 key contact names (both Artistic Management and Business titles). The listings are arranged first by five performance categories—Dance, Instrumental Music, Vocal Music, Theatre, Series & Festivals—then by state and city, making it easy to research listings by both category and location. Following these five performing arts chapters are Facilities (by state), and Information Resources (by resource type), including Associations, Newsletters, Magazines & Journals, Trade Shows, Directories & Databases, and Industry Web Sites.
Performing Arts Content
Each performing arts chapter includes a vast range of listings in size, budget, and renown. In addition to the range of listings, the number of listings in each chapter is impressive: 702 Dance; 1,126 Instrumental Music; 555 Vocal Music; 1,723 Theatre; and 1,721 Series & Festivals.

Valuable contact information—name, address, phone, fax, email and web site—is at the start of each listing. You will find long lists of key staff—both Artistic Management and Business titles—and dozens of valuable details, such as: Specialized Arts Fields; Number of Paid/Volunteer Staff; Income Sources; Budget; Year Founded; Affiliations; Annual Attendance; Seating Capacity; Guest Writers/Directors; Local Talent; Artists-in-Residence; Multimedia; Student Interns; and Special Technical Talent.
Performance Facilities
This chapter includes 2,831 listings of venues for the performing arts. Organized first by state, then by city, many facilities listed are multi-purpose, such as arenas, stadiums, and college and university spaces. Some are devoted stages for dance or theater.
Information Resources
With content from our popular annual business title, the Business Information Resources, this section includes 795 resources for the performing arts industry. Whether the need is educational or professional, users will find detailed listings for Associations, Newsletters, Magazines, Journals, Trade Shows, Directories, Databases, and Web Sites, with the contact information and key executive names needed for in depth research into the dynamic performing arts industry.
Indexes
Entry Name Index
Executive Name Index
Facilities Index
Specialized Field Index
Geographic Index
Information Resources Index
---
Online Database
For even easier access to data, The Grey House Performing Arts Industry Guide is available for subscription on G.O.L.D.—Grey House OnLine Database. Subscribers to G.O.L.D. have immediate access to 9,453 performing arts resources and 36,886 key industry contacts, and can search by dozens of criteria, including performance area, key staff, budget, keyword and so much more. Plus, subscribers can download contact sheets to create their own mailing list. Visit http:\\gold.greyhouse.com or call 800-562-2139 to demo the site.
The data in this directory is also available as a Customized Database that you can download into your own spreadsheet or database software. Using this database you can print mailing labels, print prospect sheets for your marketing department and much more. Click here for more information on customization options and pricing.
Pub. Date: January 2019
Softcover: 1,200 pages
ISBN: 978-1-64265-061-7
Price: $195.00
Online Database: Get Price Quote



Note: If you find this work does not fit your budget, please print out this page and bring it to your local library. There is a reasonable chance they either have a copy, can direct you to a library that does, or will be willing to purchase it for their reference collection.