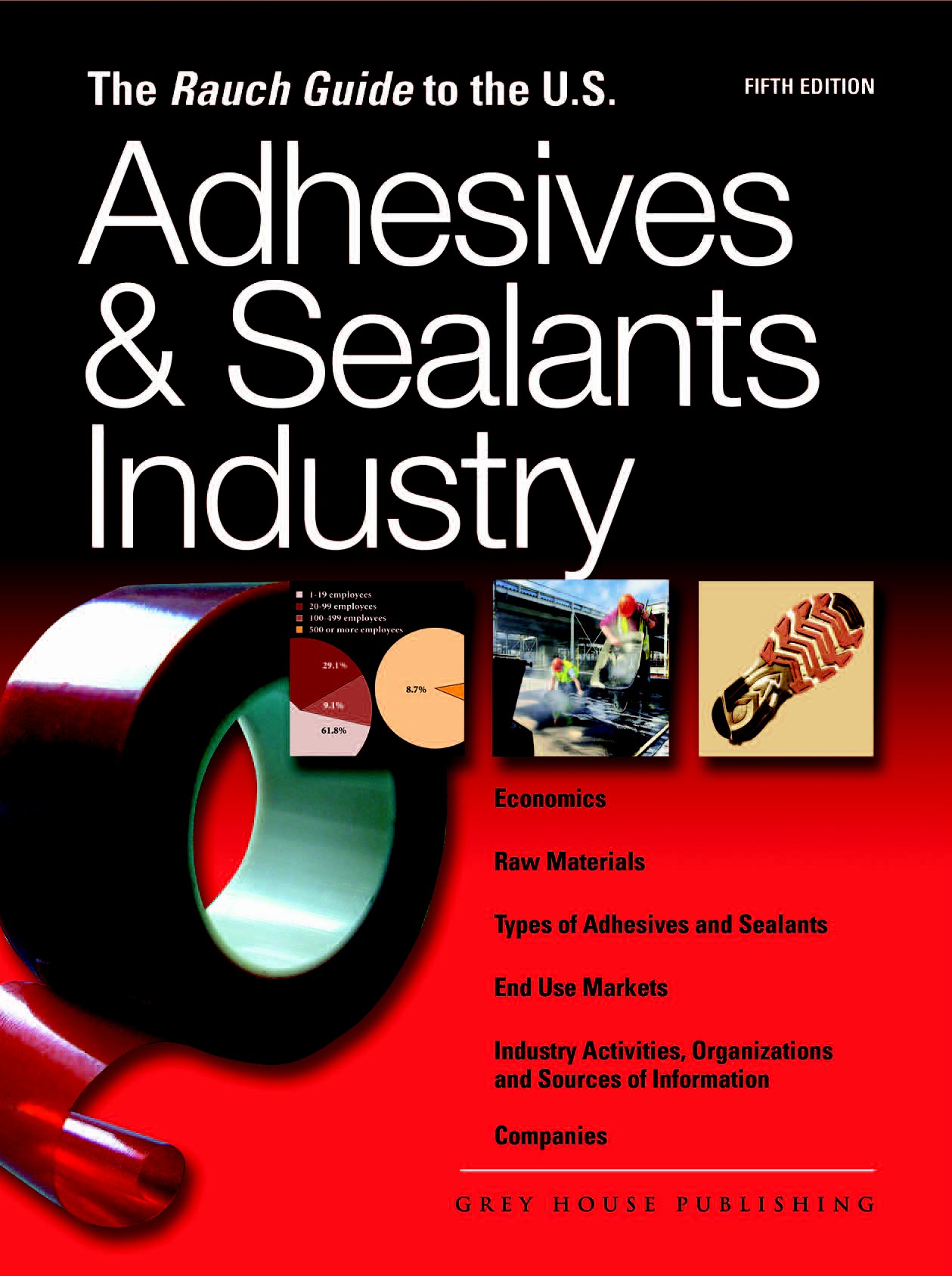 "The Directories represent a significant change from the previous edition, combining the two separate categories of almost 600 adhesive manufacturers listed in the 4th edition. Information on the smaller companies has been expanded to match information presented on major companies. In addition, the directory of associations is considerably expanded, as is the publications section. New to this edition is a 21 pp. Index of Key Personnel, a guide to Who's Who in the companies listed in the Directory, a welcome addition...this is still an invaluable, and affordable, publication. The comprehensive nature of the data and text offers considerable insights into the industry, market sizes, company activities, and applications of the products of the industry. The additions that have been made have certainly enhanced the value of the Guide."
-Adhesives & Sealants Newsletter
Rauch Guide to the US Adhesives & Sealants Industry
Fifth Edition
Pub. Date: March 2006
Softcover: 400 pages
ISBN: 1-59237-129-9/978-1-59237-129-7
Price: $595.00
The Rauch Guide to the US Adhesives & Sealants Industry provides the most compressive marketing report on the business available anywhere. It covers all aspects of the industry from raw materials to formulated products to producers. All this at a price substantially below competitors, and at an affordable to all!
The Guide presents data with substantive discussion of this $11,002-million domestic business. In-depth financial projections are provided together with substantial discussion of the various industry segments.
Information includes:


Economics. After a brief introduction, this section provides data on industry shipments; long-term growth and forecasts; prices; company performance; employment, expenditures, and productivity; transportation and geographical patterns; packaging; foreign trade; and government regulations.


Technology and raw materials. These chapters provide market, technical, and raw material information for chemicals, equipment and related materials, including market size and leading suppliers, prices, end uses, and trends.


Products and markets. These sections provide information for each major industry product, including market size and historical trends, leading suppliers, five-year forecasts, industry structure, and major end uses.


Industry activities, organizations and sources of information. This chapter lists meetings, exhibits, and trade shows, sources of statistical information, trade associations, technical and professional societies, and trade and technical periodicals.


Directory. This section profiles major industry companies, both public and private. Generally several hundered companies are analyzed. Information includes web address, estimated total and domestic sales, product description, and recent mergers and acquisitions.


Appendixes. This section provides a cross-reference of suppliers, subsidiaries and divisions.
Unique to the Rauch Guides, the reader will find a very valuable source of information in "The Directory", a section that describes the sales and activities of 800 of the leading U.S. adhesives and sealants producers. Ideal source for competitive analysis or mergers and acquisitions.
All Rauch Guides are specifically designed to assist the busy, action-oriented person by providing, in a single volume, a thorough presentation of widely scattered industry information with concise, helpful analysis. The Guide thus functions as an instant source of information for the industry specialist and as a useful primer for the newcomer.
The Adhesives and Sealants Guide is an effective marketing tool, and as such:
Reduces the time to identify and obtain adhesives and sealants industry information,
Eliminates much of the research cost, and
Most importantly, saves valuable time needed to extract pertinent information from a variety of widely scattered sources.

No other adhesives and sealants report, sourcebook, or data bank provides the same comprehensive scope at such an affordable price, nor offers the same quality of the data in the Guide that the industry needs and expects.

Join the hundreds of companies and organizations that have purchased this and previous editions. It is a "must have" for all industry participants!

For information on Impact Marketing's Guide to the US Packaging Industry, please visit www.impactmarket.com.

Pub. Date: March 2006
Softcover: 400 pages
ISBN: 1-59237-129-9/978-1-59237-129-7
Price: $595.00



Note: If you find this work does not fit your budget, please print out this page and bring it to your local library. There is a reasonable chance they either have a copy, can direct you to a library that does, or will be willing to purchase it for their reference collection.