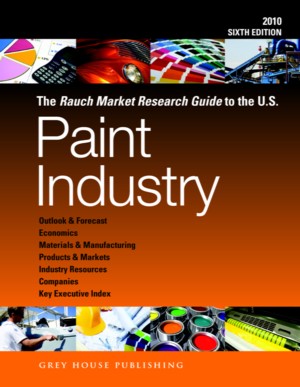 Rauch Guide to the US Paint Industry
Sixth Edition
Pub. Date: August 2010
Softcover: 500 pages
ISBN: 1-59237-428-X/978-1-59237-428-1
Price: $595.00
The Rauch Guide to the US Paint Industry provides industry structure and current market information about this $16.6 billion industry. The report is divided into five major chapters with 100+ tables and 20 figures in its 500 pages. Unique to the Guide is a profile over 800 industry manufacturers, with sales estimates, products, mergers and acquisitions, divestitures and other information for the 400 largest companies.
Information includes:


Economics. After a brief introduction, this section provides data on industry shipments; long-term growth and forecasts; prices; company performance; employment, expenditures, and productivity; transportation and geographical patterns; packaging; foreign trade; and government regulations.


Technology and raw materials. These chapters provide market, technical, and raw material information for chemicals, equipment and related materials, including market size and leading suppliers, prices, end uses, and trends.


Products and markets. These sections provide information for each major industry product, including market size and historical trends, leading suppliers, five-year forecasts, industry structure, and major end uses.


Industry activities, organizations and sources of information. This chapter lists meetings, exhibits, and trade shows, sources of statistical information, trade associations, technical and professional societies, and trade and technical periodicals.


Directory. This section profiles major industry companies, both public and private. Generally several hundered companies are analyzed. Information includes web address, estimated total and domestic sales, product description, and recent mergers and acquisitions.


Appendixes. This section provides a cross-reference of suppliers, subsidiaries and divisions.


The Guide provides information that is either widely scattered or difficult to find, saving valuable time and money. Users describe the Guide as the best single-source document on the entire US paint industry. Thousands of copies have been sold worldwide to producers, raw material suppliers, consultants, investment bankers, and others with a stake in this fast-changing, complex industry.
We trust that you also will find the Guide to be a worthwhile, cost-effective investment.
For information on Impact Marketing's Guide to the US Packaging Industry, please visit www.impactmarket.com.
Pub. Date: August 2010
Softcover: 500 pages
ISBN: 1-59237-428-X/978-1-59237-428-1
Price: $595.00


Note: If you find this work does not fit your budget, please print out this page and bring it to your local library. There is a reasonable chance they either have a copy, can direct you to a library that does, or will be willing to purchase it for their reference collection.