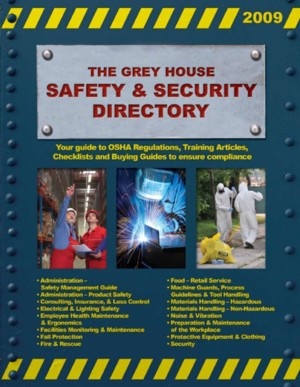 "Professionals and businesses will use this guide for OSHA regulations, training, and finding necessary supplies and services."
-ARBA

""...comprehensive table of contents makes information easy to find."
-CHOICE
Grey House Safety & Security Directory
2009 Edition
Pub. Date: December 2008
Softcover: 1,600 pages
ISBN: 1-59237-375-5/978-1-59237-375-8
Price: $165.00
The Grey House Safety & Security Directory is the most comprehensive reference tool and buyer's guide for the safety and security industry. Grey House Publishing acquired the title in 2002, which had been published continuously since 1943 as A.M. Best's Safety & Security Directory.
Arranged by topic, each chapter contains OSHA Regulations, Training Articles, Self-Inspection Checklists and Safety Guidelines for that topic, along with thousands of Product Descriptions and Product Listings in the Buyer's Guides. Topics include:

Administration
Electrical Lighting & Safety
Employee Health Maintenance & Ergonomics
Facilities Monitoring & Maintenance
Fall Protection
Fire & Rescue
Hazardous Materials Handling
Insurance, Loss Control & Consulting
Machine Guards, Process Guidelines & Tool Handling
Noise & Vibration
Ordinary Materials Handling
Protective Equipment & Apparel
Retail Food Services
Security
Workplace Preparation & Maintenance
Buyer's Guides for each topic are further broken down and organized by subject area for quick access to specific product manufacturers.
Six important indexes make finding information and product manufacturers quick and easy:

Geographical Index of Manufacturers and Distributors: organizes product manufacturers and distributors geographically in order to help users identify local suppliers.
Company Profile Index: lists all companies in the directory alphabetically. These detailed listings provide addresses, phone numbers, fax numbers, products and services, branch offices and web sites in an easy-to-use format. Logos and company descriptions are also included to highlight these listings.
Brand Name Index: provides a generic description of each brand name product and provides the name of the manufacturer.
Product Index: contains each product listed in the directory and the page on which it can be found. Products are listed according to one or more key words and many items are cross-referenced.
Index of Web Sites: lists web site addresses of all advertisers in the directory.
Index of Advertisers: provides an alphabetical listing of all advertisers in the directory to create a quick reference for all ads and featured products.

Pub. Date: December 2008
Softcover: 1,600 pages
ISBN: 1-59237-375-5/978-1-59237-375-8
Price: $165.00


Note: If you find this work does not fit your budget, please print out this page and bring it to your local library. There is a reasonable chance they either have a copy, can direct you to a library that does, or will be willing to purchase it for their reference collection.