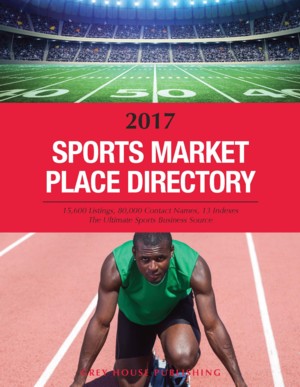 "Grey House is the new publisher and has produced an excellent edition...highly recommended for public libraries and academic libraries with sports management programs or strong interest in athletics."
-Booklist
Sports Market Place Directory
2017 Edition
Pub. Date: May 2017
Softcover: 1,800 pages
ISBN: 978-1-68217-361-9
Price: $295.00
Online Database: Get Price Quote


Request a

for your library


Sports Market Place Directory is a classic sports reference work that has served the sports industry for over 50 years, offering full coverage of 103 sports—from Air Sports to Yachting—including data on fast-growing segments such as cycling, fitness, gymnastics, martial arts, running, swimming, and weightlifting. With over 14,600 listings, this 2,000-page work comprises 10 chapters of useful contact and other business information, including professional services, college/youth leagues and teams, sports media, events, facilities, sponsors, and professional services.
In recent years, sports-related travel, construction, and apparel have all outperformed their non-sports counterparts, and the list doesn't stop there. Advertising, food, and entertainment are just a few of the other industries where sports play a major role, and this 2017 edition of Sports Market Place Directory is the perfect key to this dynamic, multibillion-dollar industry. All users—whether media professionals, agents, athletic directors, coaches, athletes, job seekers, service providers, or fans—will find the Sports Market Place Directory to be an extremely invaluable resource.
Arranged in useful, business-minded chapters, Sports Market Place Directory contains listings full of valuable information, including company names, addresses, phone/fax numbers, websites, email addresses, business descriptions, detailed corporate data, and much more.
Single Sports has 2,041 sport-specific organizations, leagues, and teams that comprise 103 specific sports. This chapter includes all professional and minor leagues, coaches, and managers, as well as an alphabetical index.
Multi-Sports includes 12 specific categories, including athletic foundations, Olympic teams, halls of fame, and youth sports organizations. A total of 834 listings are featured, in addition to an alphabetical index.
College Sports offers 1,705 listings, with associations, conferences, degree programs, and division I, II, and III schools included. Users will also find a comprehensive list of coaches, sports management programs, and an alphabetical index.
Media includes prominent newspaper, radio, and television sports programming. Listings include sports editors, reporters, commentators, show hosts, and an alphabetical index.
Sports Sponsors includes 1,187 sponsors that support most major sports, including all college bowl games, plus an alphabetical index.
Professional Services highlights 13 categories—from executive search services to ticket services—for a total of 1,685 listings. This chapter begins with an alphabetical index.
Facilities contains 1,370 listings and includes seven categories from arenas to facility concession services. Here, users will find stadiums, race tracks, architects, management services, and an alphabetical index.
Manufacturers & Retailers includes 1,930 listings, with a separate section for Software Manufacturers. Listings include valuable contact information, including key executives, products, and brands. This chapter includes two indexes: one by sport and one by subject.
Events, Meetings & Trade Shows features 1,228 events-158 of which are trade shows. Both events and trade shows are listed separately by sport and date. This section also includes two alphabetical indexes: one for trade shows and one for events.
Three All-Volume Indexes are conveniently grouped in the back of the book. The Entry Index is a straightforward, all-inclusive alphabetical listing. The Executive Index is an alphabetical list of all key personnel, including each executive's title and affiliated organization. The Geographic Index organizes all listings by country and state.
PRINT PURCHASERS GET ONE FREE YEAR OF ONLINE ACCESS!
This database is available for subscription online on GOLD, Grey House Online Databases. https://gold.greyhouse.com
Additionally, print purchasers receive one free year of online access. With a subscription to the online database, users can access this wealth of information in just minutes. With the keyword search, quick search and expert search on GOLD, users can quickly and easily find the information they're looking for. Plus, subscribers can do quick or in-depth searches, save their searches, save search results, sort search results, view company profiles, download contact sheets, click through to email and web hotlinks, and so much more. Call (800) 562-2139 to set up a tour of the online database.
The data in this directory is also available as a Customized Database that you can download into your own spreadsheet or database software. Using this database you can print mailing labels, print prospect sheets for your marketing department and much more. Click here for more information on customization options and pricing.
Pub. Date: May 2017
Softcover: 2,300 pages
ISBN: 978-1-68217-361-9
Price: $295.00
Online Database: Get Price Quote



Note: If you find this work does not fit your budget, please print out this page and bring it to your local library. There is a reasonable chance they either have a copy, can direct you to a library that does, or will be willing to purchase it for their reference collection.