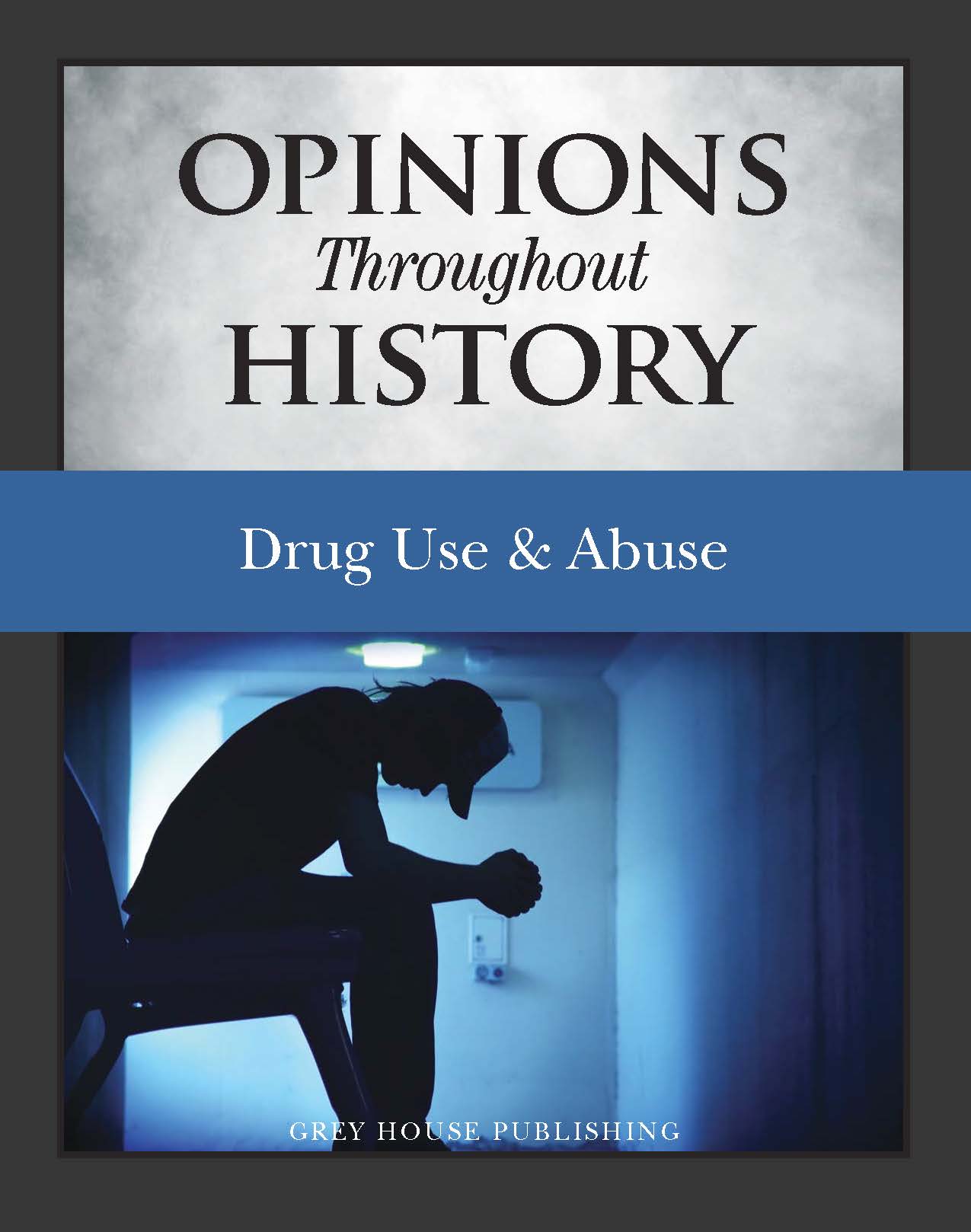 NEW SERIES!


Opinions Throughout History: Drug Use & Abuse
Pub. Date:
November 2018
Hardcover:
750 pages
ISBN:
978-1-68217-724-2
Price:
$195.00
eBook:
978-1-68217-725-9
Request a

for your library


About the Series
Opinions Throughout History: Drug Use & Abuse is the fourth title in the new Opinions series from Grey House Publishing. Single, in-depth volumes are designed to follow the path of public opinion on current, controversial topics as they have evolved throughout history. Each volume includes a range of primary and secondary source documents, including newspaper and magazine articles, speeches, court decisions, and other legislation. These documents are accompanied by expert commentary and analysis to guide the reader through the process of understanding how each document contributed to, or is a reflection of, changing attitudes on important issues of public interest.
Arrangement
The front matter contains a detailed Introduction that discusses the complex issues of both legal and illegal drug use throughout history. Following that is a comprehensive Timeline of significant events related to drug use, legalization, and addiction from 8,000 BCE to 2018.
The 28 chapters give a detailed history of the drugs that have garnered the most attention from the American public, beginning in the 1700s up to the present day. Media coverage of various drug epidemics, legislation, and the creation of such federal organizations as the Food and Drug Administration (FDA) and the Drug Enforcement Agency (DEA) are covered, beginning with the nation's first recognized opium crisis in the 1800s and ending with the current opium crisis and new treatment options. The role of physicians in prescribing potentially dangerous and addictive drugs to treat medical conditions —and to treat addictions to other drugs—is explored, as well as the often unscrupulous marketing efforts of pharmaceutical companies. The presentation of legislation efforts to curb drug use through tough punitive policies demonstrate a cyclical pattern—a drug epidemic captures media attention, is portrayed as the cause of an increase in crime, and the government begins a new "War on Drugs."
The time period covered is sweeping. The content starts with a New York Times Letter to the Editor from 1860 with testimonial for "Mrs. Winslow's Soothing Syrup," a cough medicine for children that contained alcohol and morphine, and ends with a new treatment program implemented in San Francisco in 2018, to treat drug addicts on the street instead of in treatment facilities, where they fear arrest.
Primary/Secondary Source Documents
The Table of Contents includes details of each chapter and the individual documents analyzed. Most documents are reprinted in their entirety, and are clearly distinguished by a shaded title bar. Often, the document is broken up into sections to better demonstrate the points discussed in the accompanying commentary, detailing its significance and how it reflects the ongoing tension between opposing opinions in America.
The work concludes with the following back matter:
Notes
Primary & Secondary Source List
Glossary
Historical Snapshots
Bibliography
---
Get Free Online Access on the Popular Salem Press Platform!
This title comes with FREE ONLINE ACCESS on the popular Salem Press platform.

With unlimited users and remote access included, your students and researchers can now search this amazing collection of data, anytime & anywhere, all just a click away.
Also Available:
Opinions Throughout History: National Security vs. Civil & Privacy Rights
Opinions Throughout History: Immigration
Opinions Throughout History: Gender Roles & Rights
Opinions Throughout History: Environmentalism
Pub. Date: November 2018
Hardcover: 750 pages
ISBN: 978-1-68217-724-2
Price: $195.00 eBook: 978-1-68217-725-9




Note: If you find this work does not fit your budget, please print out this page and bring it to your local library. There is a reasonable chance they either have a copy, can direct you to a library that does, or will be willing to purchase it for their reference collection.