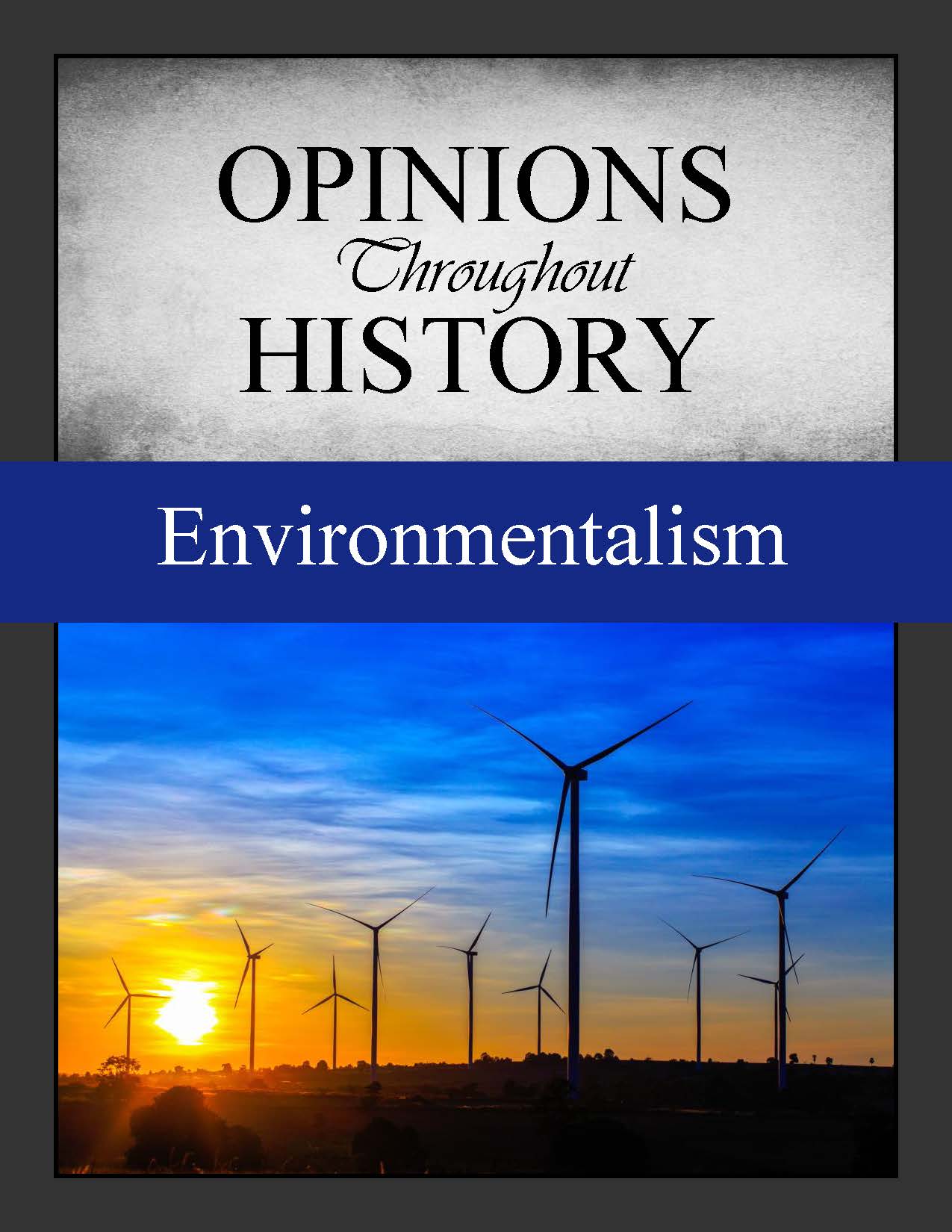 NEW SERIES!


Opinions Throughout History: Environmentalism
Pub. Date:
January 2019
Hardcover:
400 pages
ISBN:
978-1-68217-953-6
Price:
$195.00
Request a

for your library


Opinions Throughout History: Environmentalism
This volume follows shifting public opinion on the environment. Historian at-large Micah Issitt traces the path of how Americans think about the environment, with each chapter providing insightful commentary on a selected primary source. Drawing from the popular press, key court and legislative battles, scientific research, social activism and opinion polls, Opinions Throughout History: Environmentalism offers readers mixed sources of information woven together to highlight the overall momentum of developing public opinion around "green" thinking and environmental policy. As commercial and conservation forces compete to shape popular opinion on this issue readers will see the constant tension between development of natural resources for human benefit and "leaving no trace" thinking in the natural world.
From Smoky the Bear to Earth Day, this volume tracks public opinion from activists to boardrooms and will consider an array of issues including public belief in or skepticism of climate science, the establishment of national parks and conservation areas and threats to their future, animal conservation, the environmental impact of energy independence, funding for environmental research, GMO policies and agribusiness and electric cars and eco urban development. Environmentalism provides an essential resource for science and environmental research and an accessible commentary on one of the most complex and pressing issues of our day. Each chapter includes an introduction and conclusion, bulleted topics covered and discussion questions. The volume includes the following Resources: Primary Sources, Timeline, Glossary, Historical Snapshot, Bibliography and Index
This exciting new series offers a wide range of insights into long-standing issues that Americans are most concerned about, and those that have encouraged vigorous debate among politicians and citizens at large. Using carefully chosen original documents that cover a wide time span, Opinions Throughout History weaves a thoughtful and easy-to-understand analysis of how public opinion is formed and evolves, starting the discussion at an historical, seminal moment, and ending with where we stand today.
Each volume includes a wide variety – about 30 in all -- of primary and secondary sources, including opinion essays, editorials, speeches, journal articles, court cases and legislation. Documents are reprinted – entirely or excerpted – and supported by detailed narrative written by expert historian Micah Issitt. These important documents are the cornerstone of each chapter, which features:
An informative Introduction that sets up the focus of the chapter, highlighting the primary source that is analyzed;
A list of Topics Covered in the chapter;
The Primary Source Document, clearly indicated and fully cited;
Thoughtful Analysis, averaging 1,500 words – that digs into specific sections of the document;
Sidebars that offer valuable background information;
Photos, cartoons, posters to support the topic and provide fun and informative visuals;
A Conclusion that summarizes the chapter and reiterates main points;
Discussion Questions to help guide further conversation and debate about these current topics;
Works Used to make additional research easy.
In addition, front matter of Opinions Throughout History includes a detailed Timeline of significant events that impacted policy and public opinion, and back matter includes an extensive Historical Snapshot that offers an interesting list of significant firsts -- events, books, movies, legislation, trends – offering a snapshot of what was happening in the U.S. while public opinion was evolving – a Glossary of terms related to national security, and a Bibliography. A detailed Index closes the volume.
View a Sample Article from National Security vs. Civil & Privacy Rights.
Also Available:
Opinions Throughout History: National Security vs. Civil & Privacy Rights
Opinions Throughout History: Immigration
Opinions Throughout History: Gender Roles & Rights
Opinions Throughout History: Drug Abuse & Drug Epidemics
Pub. Date: January 2019
Hardcover: 400 pages
ISBN: 978-1-68217-953-6
Price: $195.00



Note: If you find this work does not fit your budget, please print out this page and bring it to your local library. There is a reasonable chance they either have a copy, can direct you to a library that does, or will be willing to purchase it for their reference collection.