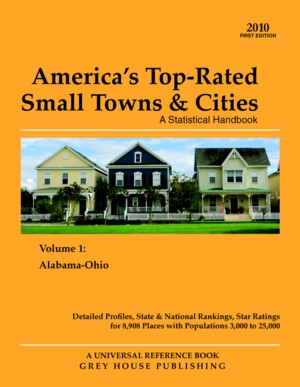 "This handbook simplifies the research process by combining disparate information from various resources... The result is a two-volume se of 8,900 places with populations of 3,000 to 25,000… As a result, researchers have a consolidated and comprehensive resource to identify trends and conduct market research."
-CHOICE


America's Top-Rated Small Towns & Cities
First Edition

Pub. Date: December 2009
Softcover: 3,600 pages, Two Volumes
ISBN: 1-59237-597-9/978-1-59237-597-4
Price: $195.00
EBook ISBN: 978-1-59237-600-1 EBook Vendors
Request a

for your library


Grey House is proud to announce its latest title in our "Top-Rated" series, America's Top-Rated Small Towns & Cities. This brand new publication provides detailed profiles and comparative statistics of small towns and cities across the country with populations from 3,000 to 25,000. More than 8,900 places are covered!
Arranged into easy-to-use state chapters, each chapter begins with a "Best Places" index, where each of the towns and cities are listed by their star ratings (5 stars = Best). This index allows the user to pinpoint the best small towns within their state.
Following the "Best Places" Index is a detailed profile on each town and city. Arranged by county, then alphabetically by place name, these profiles offer up to 25 data fields, from income and housing values, to education and taxes, designed to give the reader a comprehensive overview of the town, combining hard statistical data and historical, descriptive data.
Within each state chapter is an important Comparative Rankings section with ranking charts for Population Growth, Educational Attainment, Income Levels, Home Ownership and more. These informative charts allow the user to quickly see how the cities compare with one another, whether they are located nearby or across the state, in many different categories, making trend-spotting and market research quick and easy. National Comparative Rankings are also provided following the state chapters. Plus, a National Best Places Index allows the user to quickly find the best small towns and cities across the US.
A master Alphabetical Place Name Index is provided to make easy work of locating data on a particular place.
Some of the "Best Towns & Cities" include:
Sun Lakes, AZ
Del Mar, CA
Greenwood Village, CO
New Canaan, CT Celebration, FL
Mountain Park, GA
Hailey, ID
Hawthorn Woods, IL
Melody Hill, IN
Mission Hills, KS
River Ridge, LA
North Yarmouth, ME
Chevy Chase, MD
Marblehead, MA
Deerfield, MI
Lake Elmo, MN
Diamondhead, MS
Sunset Hills, MO
Amherst, NH
Englewood Cliffs, NJ
Hastings-on-Hudson, NY
Myrtle Grove, NC
Bainbridge, OH
Cedar Mill, OR
Blue Bell, PA
Lake Wylie, SC
Spring Hill, TN
Bellaire, TX
Tysons Corner, VA
Du Pont, WA
Verona, WI
Information on small towns and cities can often times be difficult to locate. America's Top-Rated Small Towns & Cities pulls together a wealth of information about these smaller places that, before now, could take hours of research in multiple sources to locate. Combining informative statistical data and easy-to-use comparative rankings, this brand new source provides just the data you need when researching small towns and how they compare to one another. A must-have source for libraries of all sizes.
Also Available:

Pub. Date: December 2009
Softcover: 3,600 pages, Two Volumes
ISBN: 1-59237-597-9/978-1-59237-597-4
Price: $195.00
EBook ISBN: 978-1-59237-600-1 EBook Vendors


Note: If you find this work does not fit your budget, please print out this page and bring it to your local library. There is a reasonable chance they either have a copy, can direct you to a library that does, or will be willing to purchase it for their reference collection.