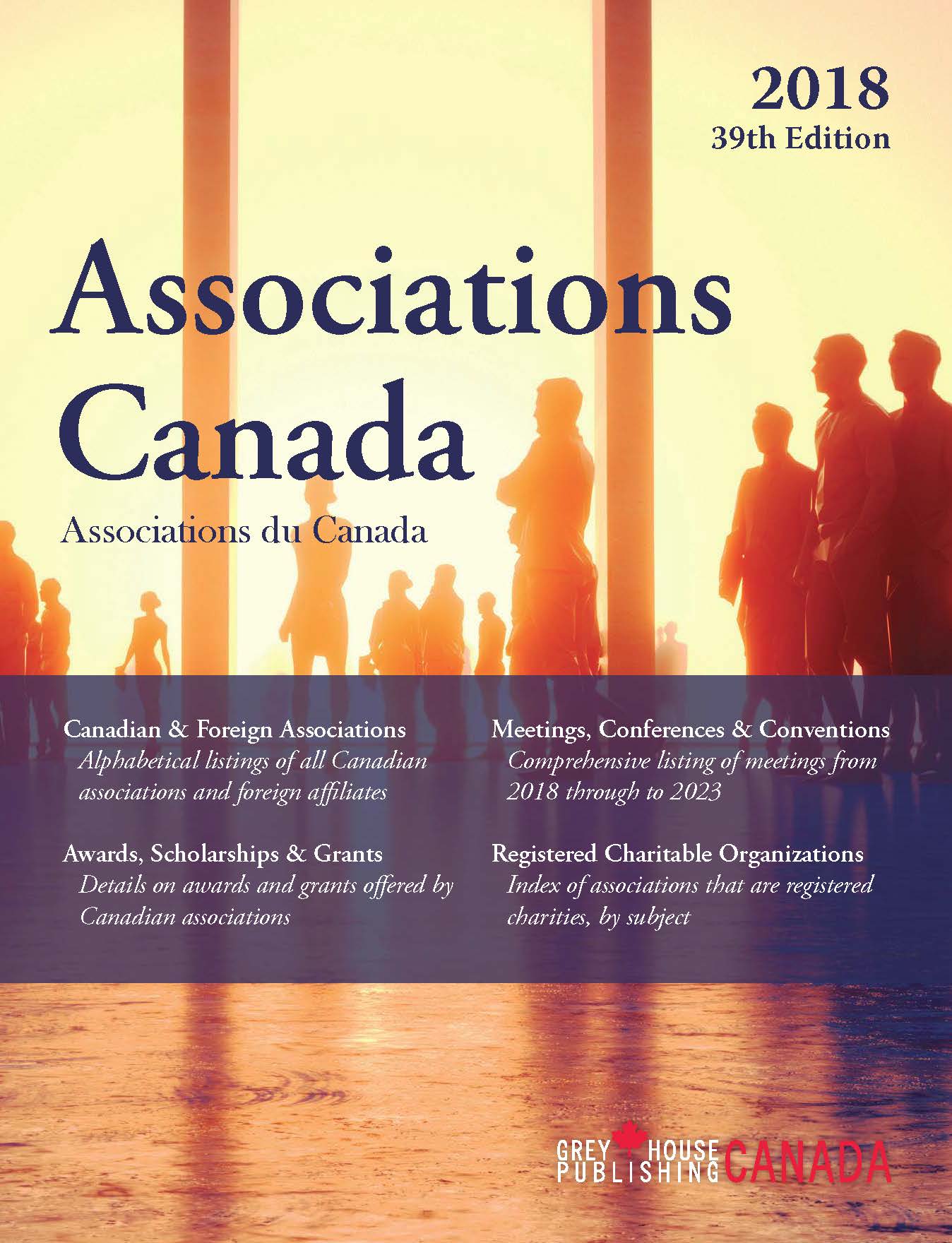 "The guide is easy to use and well organized, and the fact that Associations Canada is (partially) bilingual also garners kudos. This resource is recommended for public libraries (particularly those close to the Canadian border) and academic libraries with programs in Canadian studies."
-ARBA

Associations Canada
2018 Edition
Pub. Date: March 2018
Hardcover: 2200 pages
ISBN: 978-1-68217-826-3
Price: $469.00
EBook ISBN: 978-1-68217-827-0 EBook Vendors
Associations Canada provides the most comprehensive picture of Canada's non-profit sector, covering Canadian organizations and international groups including industry, commercial and professional associations, registered charities, special interest and common interest organizations. This resource contains comprehensive coverage of over 20,000 regional, national, and international organizations.
Detailed listing include:
Number of Members
Scope of Activity
Organizational Profiles
Operating Budget
Staff Size
Founding Date

Branches
Mailing Lists
Membership Fees
Membership Criteria
Meetings
Registered Charities

Publications
Sources of Funding
Jurisdiction
Internship Programs
Licensing Body
Awards
Eight Indexes: Subject Index, Acronym Index, Geographic Index, Budget Index, Executive Name Index, Conferences & Conventions Index, Mailing List Index, and Registered Charitable Organizations Index.
This popular title provides the most comprehensive picture of Canada's non-profit sector and is a vital resource for anyone who wants to locate non-profit interest groups and trade associations. Associations Canada is also a strong source of prospects for sales and marketing executives, tourism and convention officials, researchers, and government officials.
20,172

Associations

33,708

Executives

1,940

Meetings/
Conferences
---
Also Available:

Pub. Date: March 2018
Hardcover: 2200 pages
ISBN: 978-1-68217-826-3
Price: $469.00
EBook ISBN: 978-1-68217-827-0


Note: If you find this work does not fit your budget, please print out this page and bring it to your local library. There is a reasonable chance they either have a copy, can direct you to a library that does, or will be willing to purchase it for their reference collection.