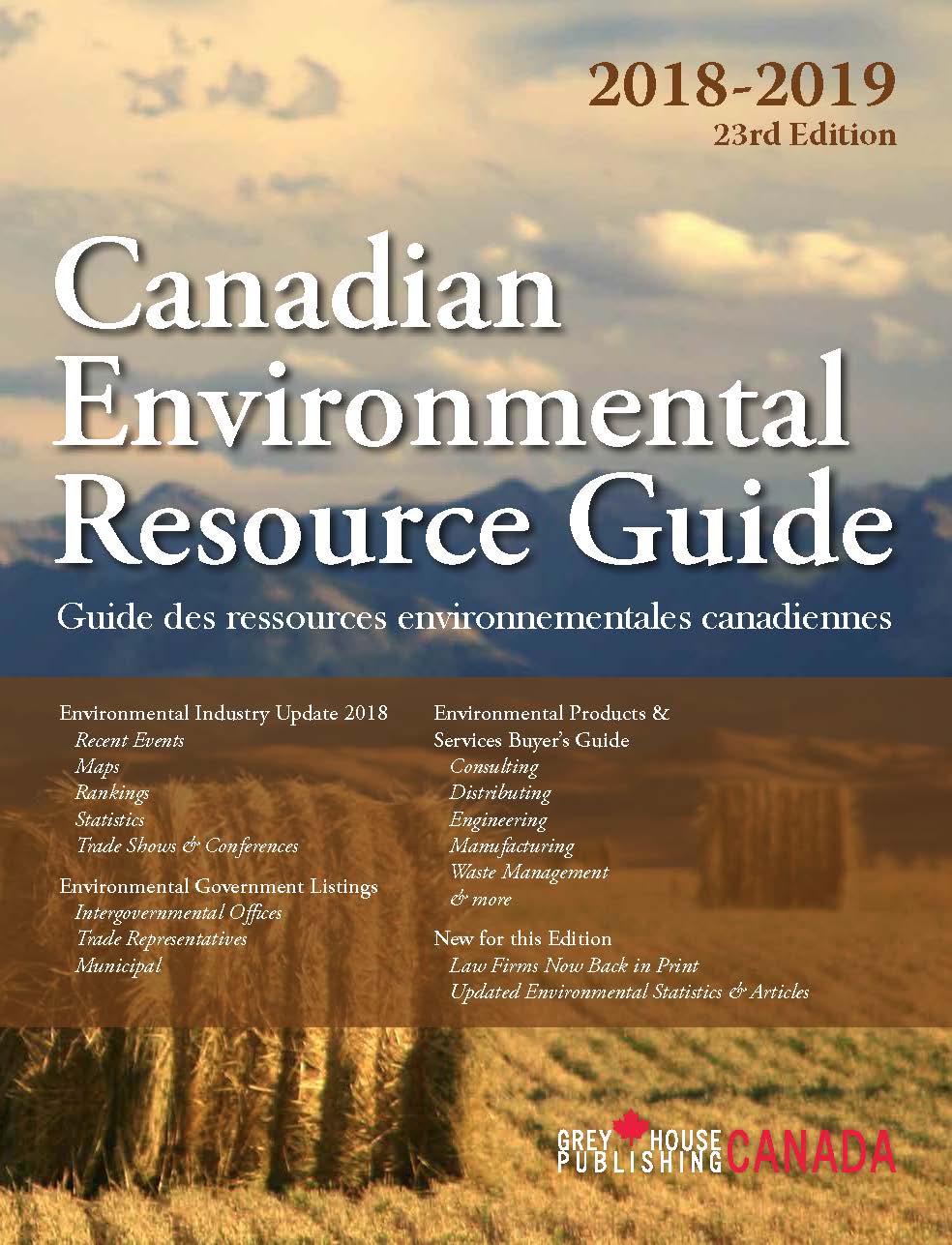 "This exhaustive and authoritative compendium remains an essential reference tool for all but the smallest academic, public and business libraries in Canada, and will also be useful to US libraries with significant collections on environmental issues, since these concerns do not stop at national boundaries. It is a model that other countries would do well to follow."
-ARBA
Canadian Environmental Resource Guide
2018/19 Edition
Pub. Date: June 2018
Softcover: 900 pages
ISBN: 978-1-68217-824-9
Price: $449.00
EBook ISBN: 978-1-68217-825-6 EBook Vendors
The Canadian Environmental Resource Guide is Canada's most complete and only national listing of environmental associations and organizations, government regulators and purchasing groups, product and service companies, special libraries and more.
The extensive Products and Services section provides detailed listings enabling users to identify the company name, address, phone, fax, e-mail, web address, firm type, contact names (and titles), product and service information, affiliations, trade information, branch and affiliate data.
FREE online access with your print purchase!
Statistics & Rankings – newly added and revised environmental statistics and reports covering a wide variety of topics.


Chronology of Environmental Events – updated annual chronology of major environmental events.


Intergovernmental Offices & Councils section – contact information at every government level – federal, provincial and municipal. Includes information and tips on who to contact and how to sell to governments in Canada.


Special Libraries and Resource Centres – over 1000 libraries and resource centres with specialized environmental collections.


Conferences, Seminars and Tradeshows – all the environment-related trade shows, conferences, and events planned for next three years including trade shows and conferences from Associations.


Environmental Trade Representatives Abroad


Major Environmental Companies
Compiling all of the data on the Canadian environmental industry, into one easy-to-use source, The Canadian Environmental Resource Guide is ideal for businesses, government agencies, engineers and anyone conducting research on the environment and is an ideal resource for public and academic libraries.
Also Available:

Pub. Date: June 2018
Softcover: 900 pages
ISBN: 978-1-68217-824-9
Price: $449.00
EBook ISBN: 978-1-68217-825-6


Note: If you find this work does not fit your budget, please print out this page and bring it to your local library. There is a reasonable chance they either have a copy, can direct you to a library that does, or will be willing to purchase it for their reference collection.