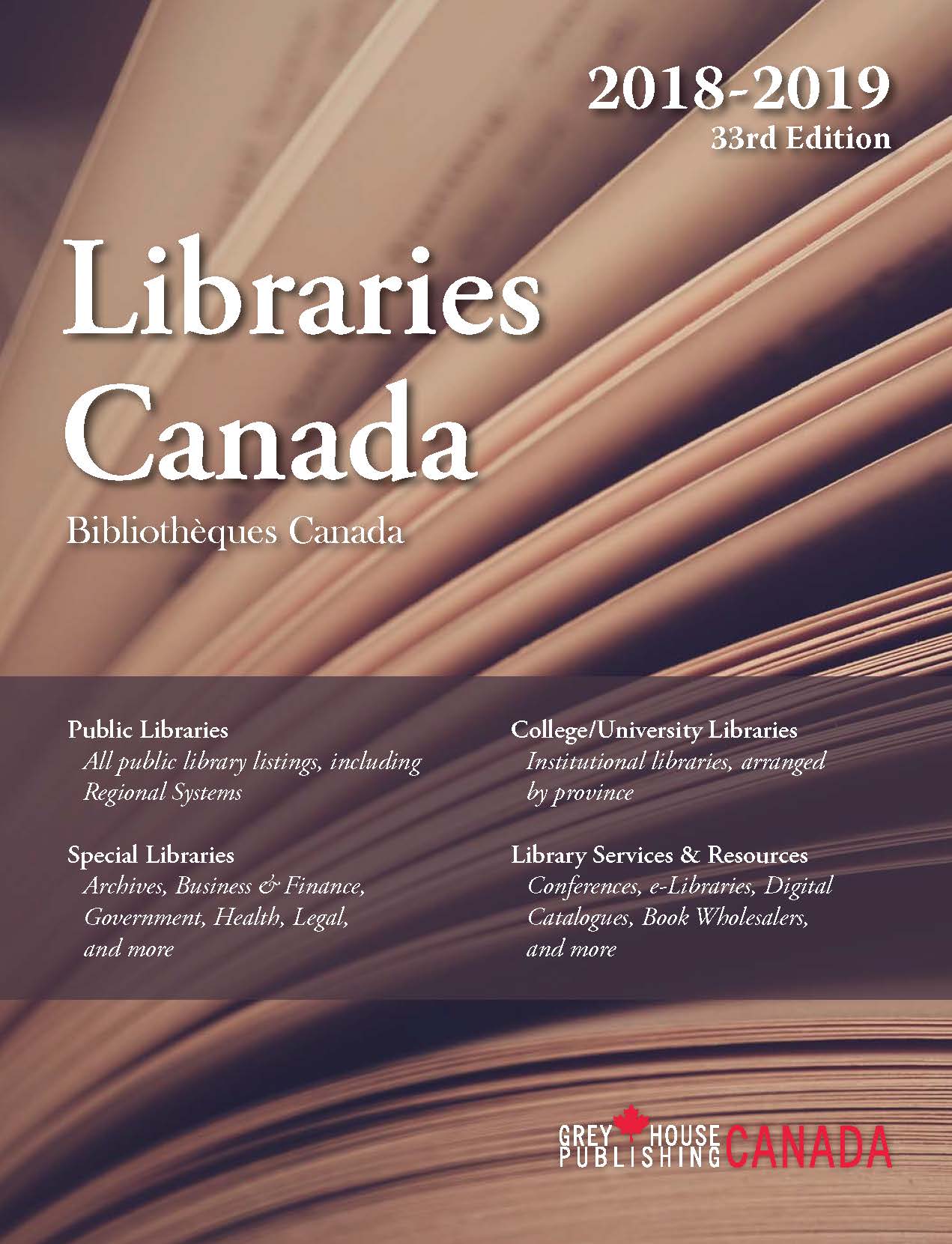 "This directory provides a wide range of data concerning the Canadian library community."
-ARBA

Libraries Canada
2017/18 Edition
Pub. Date: August 2018
Hardcover: 882 pages
ISBN: 978-1-68217-830-0
Price: $369.00
EBook ISBN: 978-1-68217-831-7 EBook Vendors
Libraries Canada brings together nearly 7,000 listings including libraries and their branches, information resource centres, archives, government libraries and library associations and learning centres.
The directory offers complete and comprehensive information on Canadian libraries, as well as valuable resources like ranking tables and a new report on Federal Government Library Closures.
Provides Important Features of each Library and Service. Libraries Canada includes important features of each library and service, including library information; personnel details, including contact names and e-mail addresses; collection information; services available to users; acquisitions budgets; and computers and automated systems.
Useful information on each library's electronic access is also included, such as Internet browser, connectivity and public Internet/CD-ROM/subscription database access.
The directory also provides powerful indexes for subject, location, personal name and entry name to assist researchers with locating the crucial information they need.
Libraries Canada is a vital reference tool for publishers, advocacy groups, students, research institutions, computer hardware suppliers, and other diverse groups that provide products and services to this unique market.
3,305

Public Libraries

567

Archives

644

University/College Libraries
---
Online access gives you even more options!
Libraries Canada is also available as a searchable online database. Monthly updates allow you to access the most current data and focus your research with broad or specific search queries. Search our 38,000+ executives and instantly download lists for mailing or further research. This is an indispensable tool for all your marketing or research needs!
Key Features & Benefits
Create your own marketing lists
Contains specialized search fields, such as organization type, year founded, profile, ownership, and number of employees
Links to Google Maps®
Saves research time
Builds your business
Try out a FREE 30-DAY ONLINE TRIAL!
Also Available:

Pub. Date: August 2018
Hardcover: 882 pages
ISBN: 978-1-68217-830-0
Price: $369.00
EBook ISBN: 978-1-68217-831-7 EBook Vendors


Note: If you find this work does not fit your budget, please print out this page and bring it to your local library. There is a reasonable chance they either have a copy, can direct you to a library that does, or will be willing to purchase it for their reference collection.