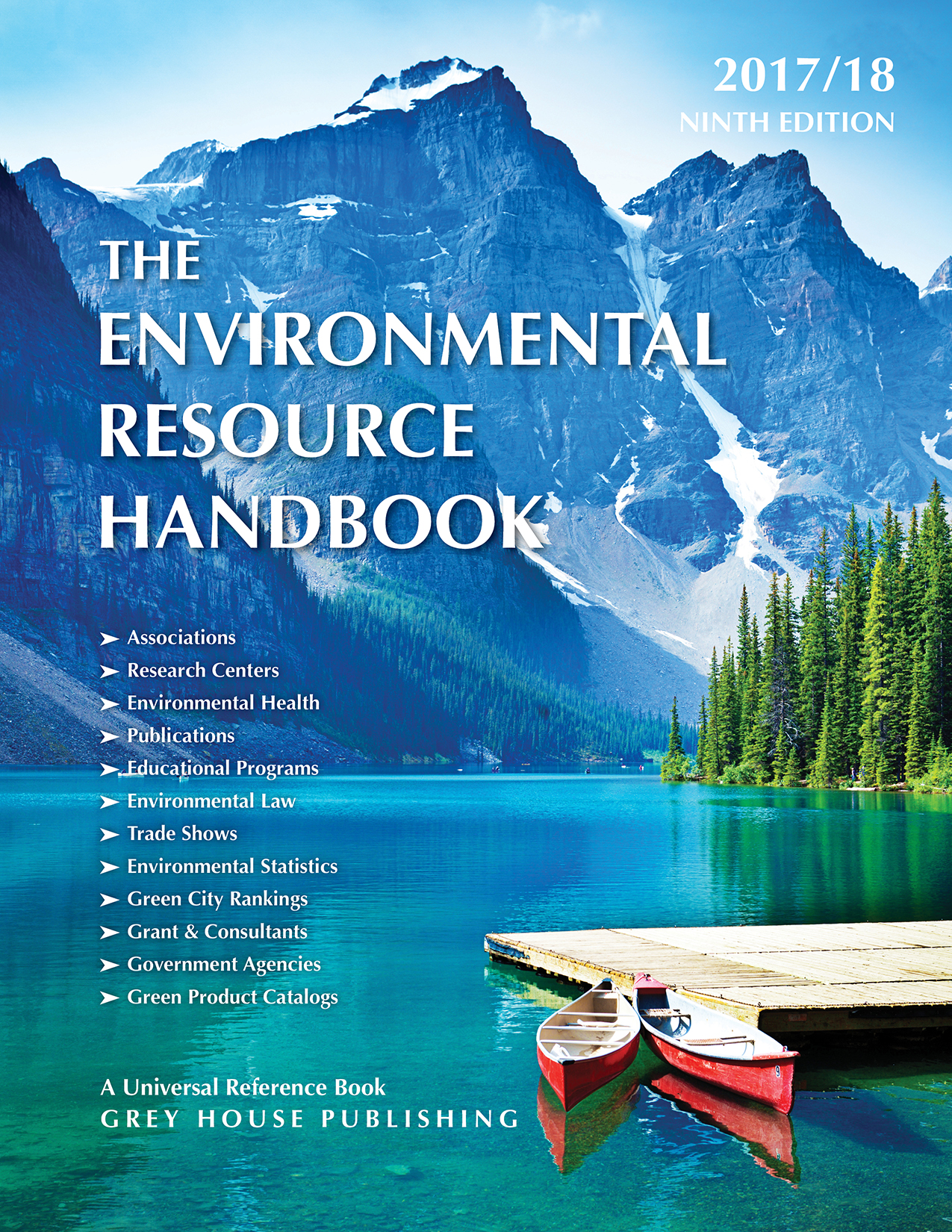 "...the intrinsic value of the information make it worth consideration by libraries with environmental collections and environmentally concerned users."
-Booklist

"...it is a worthwhile browsing tool for those who want an overview of the American environment and the resources that serve it."
-Library Journal
The Environmental Resource Handbook
2017/18 Edition
Pub. Date: September 2017
Softcover: 1,200 pages
ISBN: 978-1-68217-552-1
Price: $155.00
Online Database: Get Price Quote


Request a

for your library


This new edition is the most up-to-date and comprehensive source for environmental resources and statistics. The Environmental Resource Handbook fills a void in the reference book arena by offering coverage of environmental resources that is comprehensive and up-to-date. It is designed to provide, all in one place, necessary resources for business environmentalists, as well as educators, researchers, and students of environmental science.
This comprehensive volume offers immediate access to a unique combination of more than 6,300 environmental resources and 350 tables and charts of environmental statistics and rankings.
Section I - Resources provides detailed contact data for thousands of environmental programs and organizations:
Associations & Organizations
Awards & Honors
Conferences & Trade Shows
Consultants
Environmental Health
Environmental Law
Financial Resources
Government Agencies & Programs
Publications
Research Centers
Educational Programs
Industry Web Sites, Online Databases, and Videos
Green Product Catagories
Section II - Statistics
Hundreds of tables and charts in this section comprise dozens of main topics from Agriculture to UV Index, plus valuable Green Metro Area Rankings. This section includes the most current data available, as well as a variety of maps, graphs, and pie charts to make the information as accessible as possible.
Section III - Appendices
Abbreviations & Acronyms
Glossary of Terms
Section IV - Indexes
A Must-Have Environmental Resource! This kind of up-to-date environmental data, all in one place, is not available anywhere on the market place today. Whether in print or online, this new edition is a must-have for all public and academic libraries as well as any organization with a primary focus on the environment.
---
In addition to this print directory, The Environmental Resource Handbook is available for subscription on G.O.L.D, Grey House OnLine Databases. This gives you immediate access to the most valuable US environmental contacts, plus offers easy-to-use keyword searches, organization type and subject searches, hotlinks to web sites and emails, and so much more. Call 800-562-2139 for a free trial of the new G.O.L.D OnLine Database, or visit http://gold.greyhouse.com for more information.
Many of our directories are available in a database format that you can download into your own spreadsheet or database software. Using this downloadable database you can print out mailing labels, segment the database by geographic area for your sales team, print out prospect sheets and much more. Plus, you can customize the database to meet your own specific search criteria.
Click on the here to download a datacard. Datacards outline pricing and ways in which you can segment the database. Contact our list manager at nambery@greyhouse.com or (800) 562-2139 x118 for up-to-the-minute counts or for more information.
Also Available: