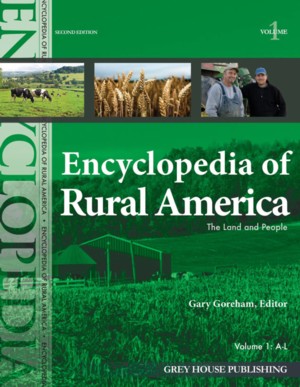 "This exemplary encyclopedia is guaranteed to educate our highly urban society about the uniqueness of rural America. Recommended for public and academic libraries."
-Library Journal

"Also included are graphs, tables, photographs, a timeline, a bibliography, and an index. Overall, this work is extremely useful. It is informative, easy to use, and well written."
-ARBA

"This unique source deserves a place in every library."
-Library Journal

"Schools and public libraries serving rural America will find this a valuable tool, but other areas will also find many questions answered. Highly recommended."
-The Book Report


The Encyclopedia of Rural America
Second Edition
Pub. Date: July 2008
Hardcover: 800 pages, Two Volumes
ISBN: 1-59237-115-9/978-1-59237-115-0
Price: $250.00
EBook ISBN: 978-1-59237-228-7 EBook Vendors
Request a

for your library


History, sociology, anthropology and public policy combine to deliver the encyclopedia that has become the standard reference work in American rural studies. From irrigation and marriage to games and mental health, this encyclopedia is the most comprehensive resource exploring both the history of rural America, its current issues and perspectives, and visions for its future.
Over 300 entries document and explain the major themes, concepts, industries, concerns and everyday life of the people and land who make up rural America, ranging from the industrial sector and government policy to arts, humanities and social and family concerns


Completely updated and a full 30% larger than the first edition, with over 300 articles prepared by leading experts from across the nation


Over 70 new essays, focusing on major, recent concerns including emergency management; disaster preparedness; management of natural resources; alternative energy, social movements, rural development, and sustainability


A full range of Illustrations and Photos provide more context


An Historical Timeline details important firsts in areas vital to rural America, such as accomplishments of various social movements, significant legislation, and technological advances


A new Primary Documents section includes articles and excerpts that outline visions for rural America


An annotated Bibliography rounds out the rich resources available in these two volumes


Available in print and ebook formats
The Encyclopedia of Rural America, with its broad scope of coverage, will appeal to high school and college students as well as graduate students, faculty, scholars, and people whose work pertains to rural areas.
Also Available:

Pub. Date: July 2008
Hardcover: 800 pages, Two Volumes
ISBN: 1-59237-115-9/978-1-59237-115-0
Price: $250.00
EBook ISBN: 978-1-59237-228-7 EBook Vendors


Note: If you find this work does not fit your budget, please print out this page and bring it to your local library. There is a reasonable chance they either have a copy, can direct you to a library that does, or will be willing to purchase it for their reference collection.