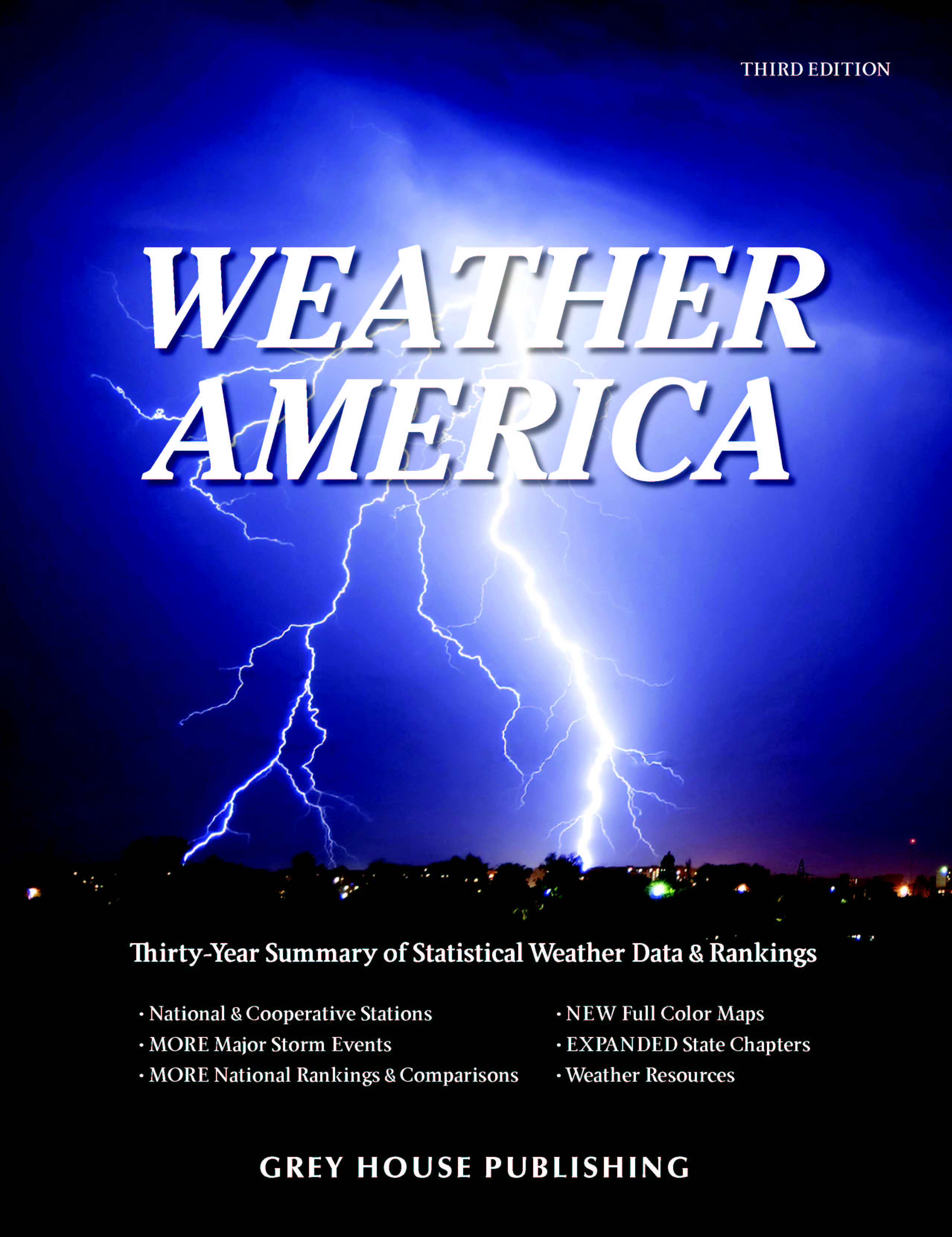 Best Reference Book of the Year
-Library Journal

Outstanding Reference Source
-CHOICE

"This is the best source for US climatological information for the last 30 years...highly recommended for all libraries."
-CHOICE

"Libraries that need detailed weather data for more than just US cities will find Weather America a handy compilation of data."
-Booklist


Weather America
Third Edition
Pub. Date: February 2011
Softcover: 2,000 pages
ISBN: 1-59237-598-7/978-1-59237-598-1
Price: $195.00
EBook ISBN: 978-1-59237-599-8 EBook Vendors
Request a

for your library


This valuable resource provides the most comprehensive and useful compilation of weather data available in print. Published every 10 years, Weather America provides immediate access to extensive data on over 2,000 weather stations across the nation, weather trends, climatological changes and weather events. No other source brings together this vast amount of information.
New Features – This third edition includes several new features to offer more information than ever before, including:
More Data for National & Cooperative Weather Stations
Enhanced charts and maps now begin each State Chapter
New Four Color Maps for Billion-Dollar Weather Disasters, National Contour Maps showing Temperature, Precipitation, Thunderstorms, Tornadoes, US Hurricane Strikes and Major US Landfalling Hurricanes
New Comparative Weather Charts that show how the weather has changed over time
New section on All-Time Weather Records
New State of the Climate Report
and much, much more
Weather Rankings – national and state rankings for temperature, precipitation and snowfall data
Major Storm Events – summarizes major storms by both various storm criteria (type, fatalities, injuries, damage value) and by state
Weather Station Data – organized into easy-to-use state chapters, each chapter begins with a narrative of the state's climatological conditions, several maps, station indexes by division, city and elevation, followed by data tables for both National Weather Service stations and Cooperative Stations. Data includes geographical and topical information, maximum and minimum temperatures, extreme temperatures, precipitation and snowfall data.
Several helpful Appendices: National, Regional & State Climate Centers, with contact information, Periods of Record, Doppler Radar Stations, and Explanation of Data
Weather America has been designed for the average user. It is a clear, readable, logically organized and easy-to-use reference work. The combination of usability, currency of data, breadth of scope, maps, narratives, detailed station entries, ranking tables and multiple access points make it truly exceptional. This updated edition is a must-have addition to any reference collection.
Also Available:

Pub. Date: February 2011
Softcover: 2,000 pages
ISBN: 1-59237-598-7/978-1-59237-598-1
Price: $195.00
EBook ISBN: 978-1-59237-599-8 EBook Vendors


Note: If you find this work does not fit your budget, please print out this page and bring it to your local library. There is a reasonable chance they either have a copy, can direct you to a library that does, or will be willing to purchase it for their reference collection.