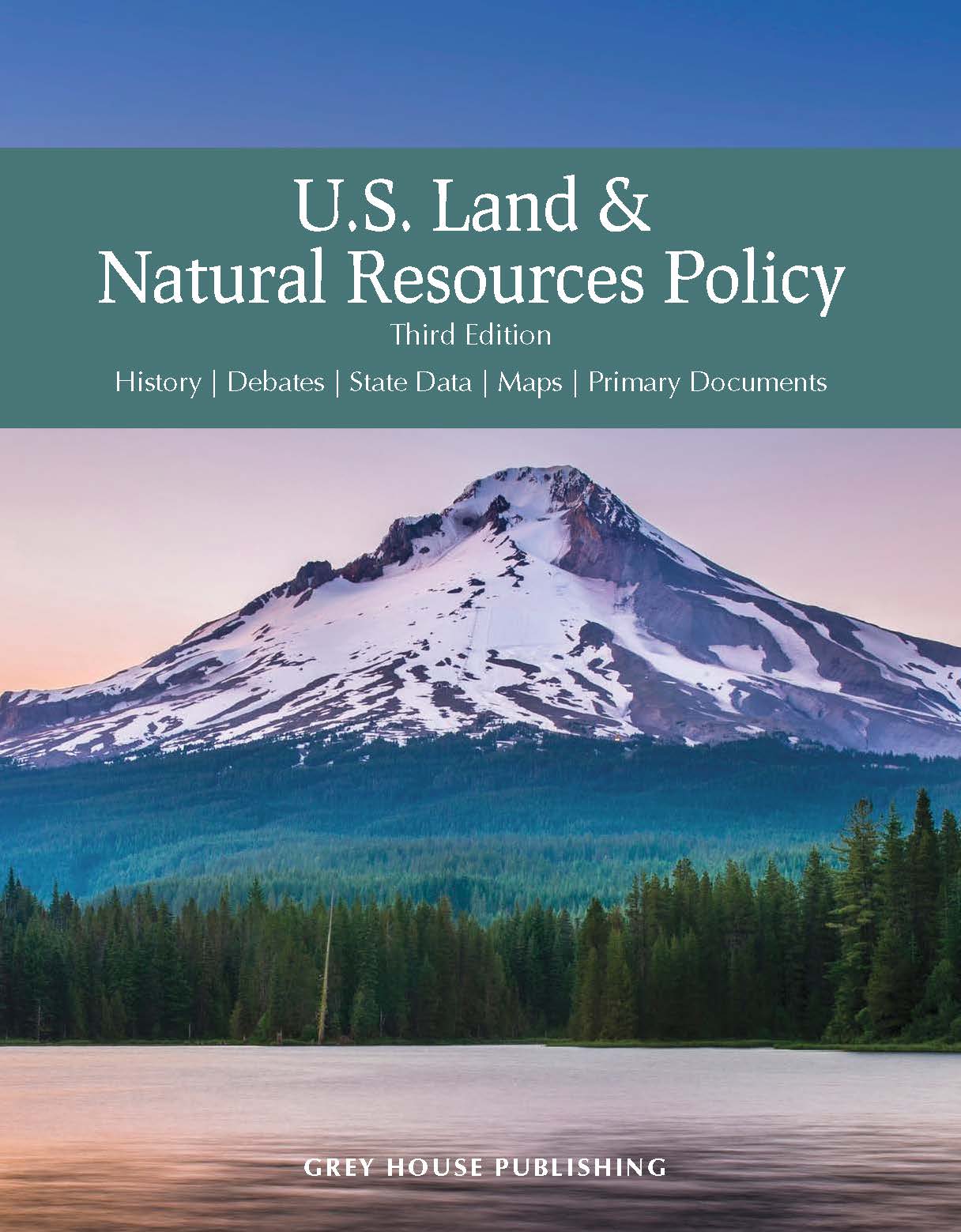 "A valuable resource and reference."
-ARBA

U.S. Land & Natural Resources Policy
Pub. Date: July 2018
Softcover: 600 pages
ISBN: 978-1-68217-729-7
Price: $165.00
EBook ISBN: 978-1-68217-730-3 EBook Vendors
INCLUDES FREE ONLINE ACCESS
Request a

for your library


A comprehensive overview of the policy debates surrounding U.S. public lands and the natural resources they contain. This greatly expanded sencond edition traces the origin and evolution of policy, the current debate and future direction of land and natural resources policy.
Coverage also extends to assess policy options in light of ecological principles and examines the importance of public lands and natural resources in the nation's environmental quality and in the quality of life the environment will provide for future generations.
Individual chapters examine:


Overview of the Politics of Public Lands, and the tension between Preservation and Consumptive Use
History & Evolution of Public Lands
Major Provisions of Federal Public Lands and Natural Resource Laws, including descriptions of revelant federal departments, agencies and bureaus
Thoughtful coverage of the Key Issues including Endangered Species, Forests, Grazing, Mining, Water, Parks & Wilderness
The Ongoing Debate about Public Lands and Natural Resources
New Primary Documents Section with over 30 informative sources, including current articles, debates and historical court cases. A detailed introduction precedes each document, to provide a context for analysis and will aid readers to better understand the various stands taken in debate over how, why, and if our public lands need to be protected.
New State Data & Maps provides detailed statistical data for each state including land designations, land use, natural resources, national parks & landmarks. State by state Energy Summaries and Four-Color Maps provide the reader with additional background information.
New National Data, Maps & Rankings offers national statistics by stsate for over 30 data points, including amount of federal land, number and acres of national parks, crude oil reserves and much more. Ten Four-Color Maps illustrate the amount and location of many types of public lands across the country.
New Data on Department of the Interior with a helpful Organizational Chart along with detailed profiles on important DOI agencies and their regional offices. New Industry Resources section provides over 1,300 profiles of assocations, publications, databases and trade shows to allow the user to further research the issues of land use, natural resources and conservation.
New Historical Timeline allows the reader to view important land and natural resources policy changes and events, in chronological order, from 1787 to 2018. Appendix of US Land Acts & Laws, Glossary, Comprehensive Bibliography and Cumulative Index complete the text.
This resource will be an important tool for policymakers, environmental studies students, and anyone concerned with the future of our public lands and natural resources. A must-have source for all university and public library reference collections.
Also AVailable:

Pub. Date: July 2018
Softcover: 600 pages
ISBN: 978-1-68217-729-7
Price: $165.00
EBook ISBN: 978-1-68217-730-3 EBook Vendors
INCLUDES FREE ONLINE ACCESS


Note: If you find this work does not fit your budget, please print out this page and bring it to your local library. There is a reasonable chance they either have a copy, can direct you to a library that does, or will be willing to purchase it for their reference collection.